Sale
Epson EH-TW6700 Projector with In Store bonus
Amazing Colour Brightness – 3,000 Lumens colour brightness and 3,000 Lumens white brightness
A True Cinematic Experience – Image Enhancement, Frame Interpolation, Full HD 1080p technology and a contrast ratio of 70,000:1
Lens Shift – Lens shift technology enables outstanding installation flexibility with an incredible range of up to ±60% on the vertical axis and up to ±24% on the horizontal axis
Mobile High-Definition Link (MHL) – Simply connect your MHL compatible smart device with MHL cable to enjoy content from your smartphone or tablet, including movies, games and more
Wide Ranging Connectivity – Connect to virtually any device, making your entertainment more accessible
Exciting 3D Made Easy – Play 3D movies or transform 2D movies to 3D, and with one pair of RF 3D glasses included 3D has never been easier
Picture in Picture – Display content from two inputs simultaneously, on a single screen
Captivating Sound – Two built-in 10 W stereo speakers for lifelike sound
Auto Colour Optimizer – By sensing ambient light, the colour mode is selected automatically, allowing you to always enjoy the best settings
Bluetooth Audio – Send audio to Bluetooth speakers or headsets wirelessly for complete flexibility and portability
Product Description
3x Brighter Colours with Epson*
Brilliant image quality requires high colour brightness (colour light output), and Epson® 3LCD projectors have 3x Brighter Colours than leading competitive projectors*.One brightness measurement (lumens) is not enough. A projector's specification needs to show both high colour brightness and high white brightness. If colour brightness is lower than white brightness, images may be dark, dull and lose detail. Be sure to ask for a projector's colour brightness specification.* 
Compared to leading 1-chip DLP business and education projectors based on NPD data, July 2011 through June 2012. Colour brightness (colour light output) measured in accordance with IDMS 15.4. Colour brightness will vary depending on usage conditions.
3LCD TechnologyAll Epson projectors are based on 3-chip LCD technology for amazing colour, incredible detail and solid reliability. 3LCD 3-chip architecture dedicates an entire chip to process each primary colour – red, green and blue, continuously. Unlike single-chip technology that delivers colour sequentially, you get full-time colour. The result is vibrant, realistic images and video all delivered with 3LCD's true-to-life colour.
C2Fine™ Technology Delivers a Higher Contrast Ratio
C2Fine offers smooth, uniform images with exceptional contrast for better image quality. Based on this new phase-compensation technology, light leakage is eliminated. When combined with the auto iris, this technology allows for contrast ratios of up to 70,000:1.

Amazing Colour BrightnessFor the best quality images, look for projectors where the colour brightness and white brightness are equal. If colour brightness is lower than white brightness, photos, videos and graphics can look dull and washed out. The Epson EH-TW6700 delivers 3,000 Lumens of colour brightness and 3,000 Lumens of white brightness (light output) for rich, colourful images.

Bright 3D Drive Technology for 3D Cinematic AdventuresEnjoy thrilling 3D adventures right in the comfort of your living room. Featuring Bright 3D Drive technology, the TW6700 puts you right in the middle of the action. Epson's drive system minimises the blackout time of 3D glasses and provides greater brightness when viewing 3D content.
2D-to-3D ConversionTransform any 2D movie, from the latest science-fiction adventure to your favourite classic, into spectacular 3D or watch the big game in exciting 3D. The TW6700 makes it easier than ever with convenient 2D-to-3D conversion. With just the touch of a button, you can watch your favourite shows and movies in eye-popping 3D. With no special discs required, the possibilities are endless.
One Pair of Rechargeable RF 3D Glasses IncludedEnjoy 3D adventures from any seat in the house. Line of sight is not required with the included RF 3D glasses. Rechargeable for up to 40 hours of battery life, these innovative glasses have a 3-minute quick-charge feature for up to 3 hours of battery life.
Bluetooth Audio1Connect to your Bluetooth speakers for complete flexibility and portability without the messy wires.
1aptX speakers are recommended for Bluetooth connectivity.
High Resolution 1080PWith a Full HD 1920×1080 panel, you can fully enjoy your favourite high definition entertainment on the big screen.

Super Resolution & Detail EnhancementMakes DVDs and standard definition content come alive via its mixed colour separation techniques and imaging simulation. It delivers crisp, clear images with super high-quality resolution. It also sharpens blurry images that have been enlarged by a general upscaling process.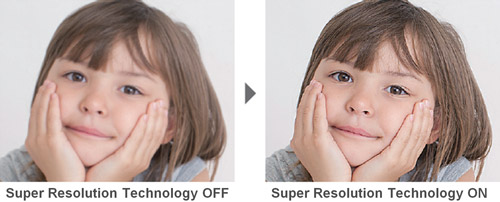 iProjection (with optional wireless card)Display and control content from your smart devices with the Epson iProjection App. This free application allows you to easily share pictures from your mobile devices. The app is easy to use and navigate with intuitive menu options that make it simple to bring your content to the big screen.
You can now also use your smart device as a remote while QR codes allow you to quickly and easily connect and share your content through iProjection.
70,000:1 High ContrastEnjoy bright, vibrant pictures and excellent shadow detail, so you can view the true brilliance of full HD images.

Wide Ranging ConnectivityConnect from virtually any device, making your entertainment simple and more accessible.
Installation FlexibilityLens shift allows you a wide range of placement possibilities, with a broad shift range of 60% vertically and 24% horizontally. Combined with a 1.6x zoom lens, projector placement is a breeze.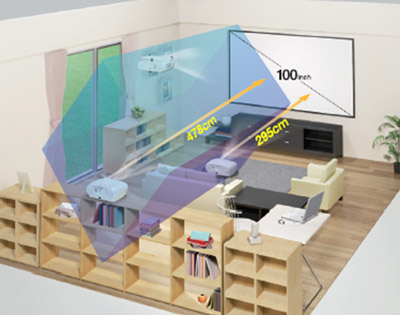 Captivating SoundEnjoy amazing audio with two built-in 10W speakers.

Specifications
• Device Type: Projector
• Inputs: 1x USB type A 1x USB type B 1x MHL 1xComponent 1x Composite 2x HDMI1.4 1x VGA
• Lamp Type: LCD
• Lumens: 3000
• Contrast ratio: 70,000 : 1
• Dimensions: ( D x W x H) 304 × 410 × 163 m